Armando Armero is a non-profit organization that has been working to rebuild the historical memory of the Colombian town of Armero for more than ten years, after the eruption of the Nevado del Ruiz volcano in 1985 that affected the northern area of Tolima and devastated the town and its population. The Foundation supports the community affected by the tragedy by running collaborative projects with the inhabitants of the region that aim to support social and economic development using a range of educational, economic and artistic strategies.
To achieve this aim, we have:

Developed the Centro de Interpretación de la Memoria y de la Tragedia de Armero ('Centre for Conserving the Memory of the Armero Tragedy'), which acknowledges the history of the community and raises awareness about natural disasters, as well as running educational campaigns on how to face them.

Supported the development of the Memory Tour, a cultural/touristic initiative that promotes economic recovery in the north of Tolima. The tour visits the cities of Honda, Mariquita, Aremero-Guayabal, Ambalema and Ibagué.

Conducted research (since 2012) on the project entitled Niños perdidos de Armero, ¡Una causa que nos toca todos! ('Lost Children of Armero. A Cause that Affects us All!') Most of our economic and human resources are directed towards this research. It is this humanitarian cause that seeks to reunite the children who were adopted in 1985 and the relatives who have been searching for them.

The Foundation has received support from the following institutions: the Spanish Agency for International Development Cooperation (AECID), Casa Amèrica Catalunya, Olot City Council in Spain, the UNESCO Chair- University of Girona, the University of Leeds (UK), the Arts and Humanities Research Council and private companies, such as Valtec, among others. Alongside the director, Francisco González, the task force has important advisers such as: Juan José Yunis, Santiago Rojas, Omar Darío Cardona and José Roca, among others.
---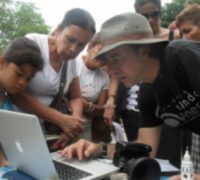 Francisco Gonzalez
Director
Francisco González is a graduate of Literary Studies at Pontifical Xavierian University, with a major in Cultural Management from Del Rosario University and an International Master's degree in Cultural Policy and Development from the University of Girona.

He has worked as a journalist in various media outlets, notably for La Prensa, where he wrote a column called 'Columna Invisible', and as a cultural editor for El Espectador. He has worked as a literary and press adviser for the Colombian Ministry of Culture. He founded and directed the newspaper Insomnio. As well as this, he has published a book of poems called Amor y Frascos and the study Epitafios: algo de historia hasta esta tarde pasando por Armero, and has conducted research on the history of taxation in Colombia. In 1992 he won first prize in the National Short Story 5th Centenary competition and the DIAN Poetry Awards. He was a finalist in the best poetry competition in Bogotá in 1987. His Epitafos y últimas palabras were exhibited in the Valenzuela and Klenner Contemporary Art Gallery; and his project La Mentira en la Web was exhibited in the Bogotá Museum of Modern Art. He was also the founder and editor of Bartleby Editions.

Francisco has received recognition and funding for the Armando Armero Foundation from AECID, Casa Amèrica Catalunya, and Olot City Council. The Foundation was selected as one out of 100 of the best projects in 2008 in the Dubai International Award for Best Practice. Conducting research for Lost Children of Armero. A Cause that Affects us All! has become his greatest passion as he fights to reunite these children, who are now adults, with their families.
---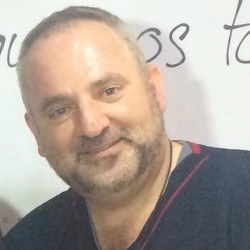 Juan José Yunis
Adviser and DNA donation bank
Juan José Yunis is a Colombian doctor from North University in Barranquilla. He has a PhD in Immunogenetics from the University of Harvard and a master's degree in Human Genetics at the Bogotá campus of the National University of Colombia, and he majored in Medical Bioinformatics at the University of Valencia. He is currently the coordinator of the Masters in Human Genetics at the National University of Colombia. His research is situated in the following areas: the molecular pathology of genetic susceptibility to disease, forensic genetics, and the genetic structure of Caucasian-mestizo and Afro-Colombian communities. He has led various research investigations on the genetic structure of the Colombian population, genetic studies on degenerative disease and genetic studies on the indigenous Colombian population. Yunis has received awards and recognitions such as: commendable research from the Faculty of Medicine at the National University of Colombia in 2006, the 15th Aventis-Sanofi prize from the National Academy of Medicine in 2004, the Medal for Academic Excellence from North University in 2003, and the 13th Aventis prize in 2002.
---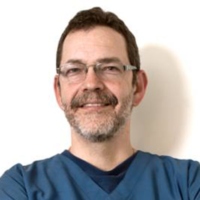 Santiago Rojas Posada
Grief Counsellor
Santiago Rojas is a doctor who specializes in oncological palliative care with an emphasis on homoeopathy, floral essences, and holistic medicine. He lectures on personal growth, palliative and bereavement support, stress, quality of life and health and wellbeing. He also uses complementary and alternative treatments in several countries, including: Colombia, Venezuela, Chile, Argentina, USA, Ecuador, Uruguay, Panama, Costa Rica, Spain, Mexico, El Salvador, France, Germany, Poland and Peru. He is currently treating patients with terminal and/ or degenerative diseases in Bogotá. He is also an associate professor of the Postgraduate Degree of Alternative Medicines at Del Rosario University and National University of Colombia in Bogotá, and is an undergraduate professor in the Faculty of Medicine at the Nueva Granada Military University in Bogotá.

He is the author of several books on integral health, such as: Desestrésate, Desintoxícate, El manejo del duelo, La estrategia del ave fénix, Alíviate el corazón roto, Anímate, Liderazgo para el sector público colombiano, Sanamente, Esencias de flores para cada momento, La armonía de las formas, as well as a novel about spirituality called Dos mundos. He is the director and presenter of Caracol Radio program Sanamente, which is about integral health, personal growth and spirituality. In addition, he is a daily contributor on the station's news and current affairs program Hoy por Hoy, as well as RCN entertainment and news television program Muy buenos dias. Warmth, compassion and generosity characterize Santiago's work, as he works with an organic vision that encompasses both mental and emotional wellbeing.
---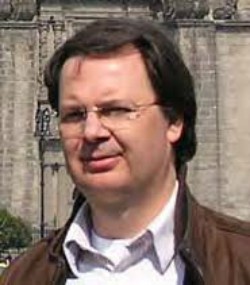 Omar Darío Cardona
Risk Management Adviser
Omar Darío Cardona is a civil engineer from the Manizales campus of the National University of Colombia. He has a PhD in Earthquake Engineering and Structural Dynamics from the Polytechnic University of Catalonia. He majored in Earthquake Engineering, Disaster Prevention and Risk Mitigation at the University of Kiril & Metodij's IZIIS Institute of Earthquake Engineering and Seismology in Macedonia in 1985, Oxford Polytechnic in the UK in 1991, and Colorado State University in the USA in 1991. He has taught a course in Integral Risk and Disaster Management for the Masters in Environment and Development at the National University of Colombia's Manizales campus, in the Institute of Environmental Studies. He has worked as a professor of Seismic Risk and Vulnerability in the Department of Civil Engineering at the University of Los Andes in Bogotá, where he created the Centre of Studies on Disasters and Risks (CEDERI) and acted as its first Academic Director. He created the Specialization in Risk Assessment and Disaster Prevention at the same university. He is a visiting professor at the European University Centre for Cultural Heritage in Ravello, Italy, and on the doctoral program for Civil Engineering at the Polytechnic University of Catalonia in Barcelona, Spain. He directs the Postgraduate course in Integral Management online at Structuralia and the International Centre for Numerical Methods in Engineering, Madrid and Barcelona, for Latin America. He was the president of the Colombian Association for Earthquake Engineering between 1990 and 2005 and was a member of the ACI-118 "Use of Computers" and ACI-314 "Simplified Design of Concrete Buildings" committees at the American Concrete Institute. He has been a member of several editorial committees for international engineering journals in various fields and acts as a referee for research projects for the Italian Government. He has authored large number of published journals and technical articles. Between 1992 and 1995 he was the general director of Colombia's Direction of Prevention and Attention of Disasters; he contributed to the design and implementation of Colombia's National Risk Disaster System between 1987 and 1992. He has acted as a consultant/adviser in risk management, planning and environment for international agencies and governments, both individually and as partner and manager of Ingeniar Ltd. and the Natural Risk Evaluation Consortium (ERN). On this subject, he also acts as a consultant for the Inter-American Development Bank (IDB) on the creation and promotion of Plan of Action and Regional Policy Dialogue , and the Indicators for Disaster Risk and Risk Management: Program for Latin America, of which he has also been the director. He has acted as a consultant for the World Bank, for the United Nations Development Programme (UNDP) and for other United Nations agencies. He has also been an adviser for the Pan American Health Organization/World Health Organization (PAHO/WHO), the Organization of American States (OAS), the United States Agency for International Development (USAID), among others. He is a founding member of the Network for Social Studies on Disaster Prevention in Latin America. He has received many awards, including the AIS 'Lámpara de Diógenes' prize in 2005. In 2004, he was awarded with the 'Sasakawa' prize for the Prevention of Disasters by the United Nations in Geneva, which recognized his "outstanding contributions, innovative practices and leading initiatives in global risk assessment and management".

---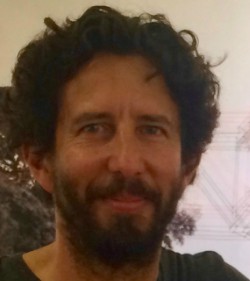 José Roca
Memory Process Adviser
José Roca is a Colombian curator from Bogotá. He is currently the artistic director of FLORA ars+natura, an independent contemporary art space in Bogotá, and is the curator of the Latin American Roaming Art (LARA) collection. From 2012 to 2015, José Roca was the Estrellita B. Brodsky Adjunct Curator of Latin American Art in London's Tate museum. For a decade, José Roca managed the Bank of the Republic's arts program in Bogotá. Roca was also the co-curator of the I Polygraphic Triennial in San Juan, Puerto Rico in 2004; the 27th Biennial of São Paulo, Brazil in 2006, and the Medellín International Art Encounter in 2007 (MDE 07). He was the artistic director of Philagrafika in 2010, in Philadelphia's international Triennial festival, celebrating print in contemporary art. Roca was a judge in the 52nd Venice Biennial awards ceremony in 2007, and was the head curator of the 8th Mercosul Biennial in Porto Alegre, Brazil in 2011. Roca is the author of Transpolitical: art en Colombia 1992-2012 together with Sulvia Suárez and Waterweavers: A Chronicle of Rivers together with Alejandro Martín, published by the Bard Graduate Centre in New York, in conjunction with the exhibition Waterweavers: The River in Contemporary Colombian Visual and Material Culture.
---
Rebecca Jarman
University of Leeds consultant and grant support
Dr Rebecca Jarman is an associate professor of Latin American Cultural Studies at the University of Leeds, England. She obtained her master's degree and PhD from the University of Cambridge (in 2011 and 2016 respectively). She is currently developing a research project that documents the cultural history of landslides in the Andean region during the 20th century, titled Viscous Cities: Landslides and Urbanization in Contemporary Andean Cultures. The research seeks to explore answers to the following questions: What happens to towns and cities that have been destroyed by major landslides? How and where do their communities survive? What role do cultural narratives play in preserving a sense of place, especially in the absence of the physical urban infrastructure? The project has received financial backing from organizations such as the Arts and Humanities Research Council (AHRC), the Newton Trust, and the British Council. As part of this project, Rebecca is collaborating with the Armando Armero Foundation in an initiative called "Armando Armero: Preserving Collective Memory and Reconnecting Diasporic Communities", funded by a grant from AHRC Language Acts. This will enable her to assist with the digitization of the foundation's archives and the translation of the website's content from Spanish to English, thus increasing the foundation's global visibility.
---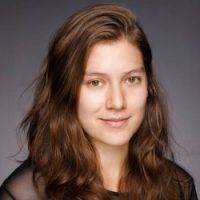 Silvia Flórez Claro
Los Andes University Intern 2018

Silvia Flórez is a student of Anthropology in her final semester at Los Andes University, minoring in Social Psychology. She has taken a professional photography course in Zona Cinco: School of Film and Photography, and has also undertaken extensive volunteer work. She has a particular interest in studies and research on the construction of historical memory through personal life histories. In addition, she is interested in work that sustains social and audio-visual anthropology.